Heating and Cooling Products in Omaha, NE
REVIEW OUR HEATING AND COOLING PRODUCTS IN OMAHA, NE
There are many options you should consider when selecting heating and cooling products in Omaha, NE. Properly installed air conditioning and heating systems always last longer than equipment that is installed the "cheap" way. Also, poorly installed units cost more to run, negating any energy efficiency benefits. Our expert installations are the best in the industry at a competitive price.
River City Heating & Cooling specializes in high-efficiency Trane heating and cooling products and systems. We also carry a wide variety of indoor air quality products that create a clean and comfortable home for your family.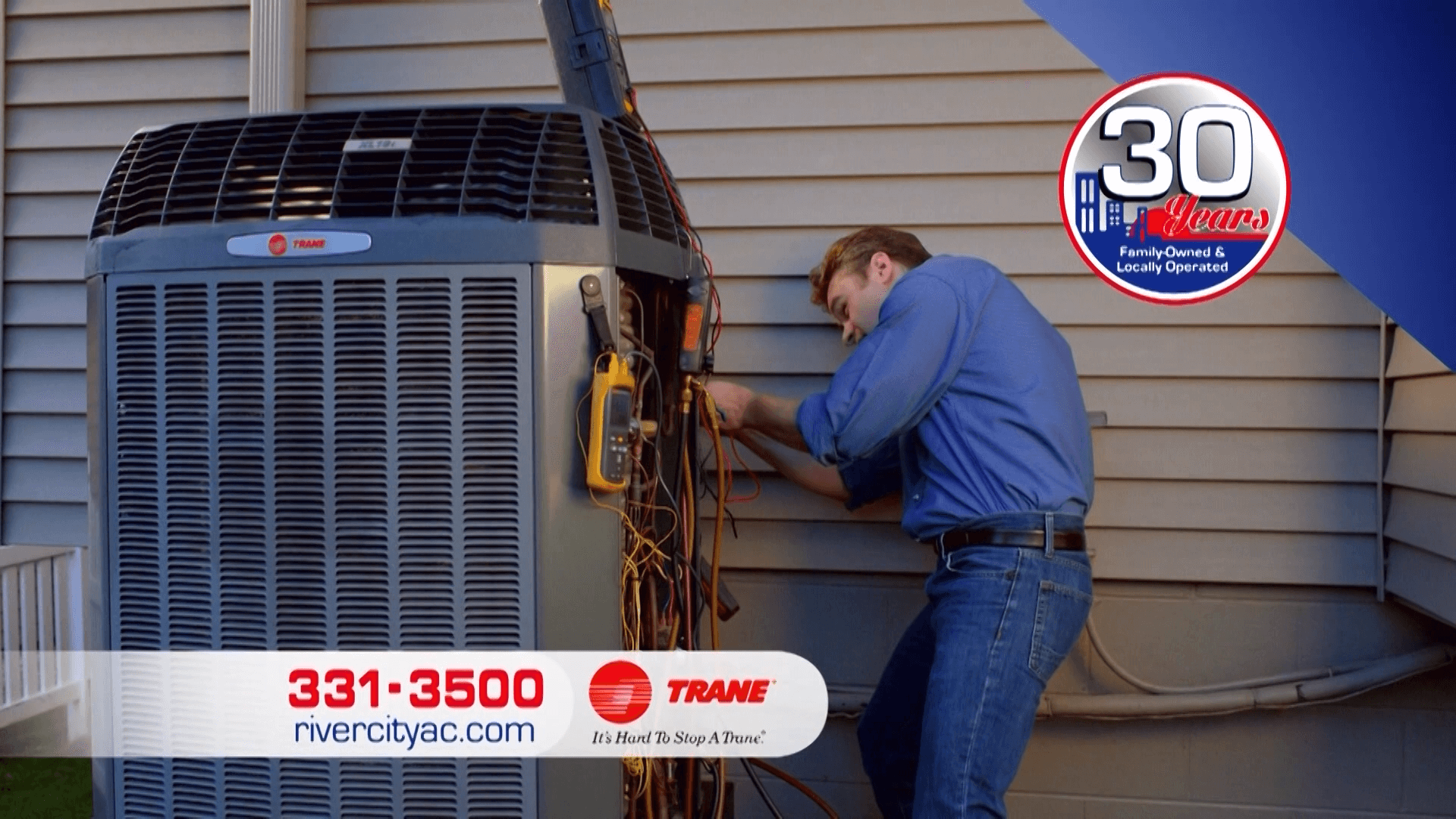 Air Conditioners
Today's air conditioners provide more comfort and efficiency than ever. Whatever size your home, whenever you need cool, comfortable, cleaner air, we're dedicated to providing the very best investment you can make for your family.
Heat Pumps
Providing year-round performance for total home comfort, heat pumps are a great solution for your home comfort system. That's because they work to provide both heating and cooling for Omaha, NE homes. Whether it's the hottest day of the summer or the coldest day of winter, Trane heat pumps workday in and day out to keep your family in premium comfort.
Gas Furnaces
Delivering one of the highest efficiencies, the XV95 is rated with up to 96.7% AFUE and is Energy Star qualified. The XV95 provides superior performance for the ultimate comfort experience. The Variable-speed fan motor adjusts speed to provide a consistent flow of warm, comfortable air with quiet operation.
Comfort Controls
Comfort at your command. The digital, programmable and non-programmable controls and thermostats of our heating and cooling products are designed to maximize your system's performance. This gives you the power to do more than just manage temperatures for your cooling and heating systems in Omaha, NE.
Air Handlers
The Hyperion air handler is unlike anything the market has ever seen. It is constructed more like a refrigerator than a typical air handler, with insulation between the walls of the innovative Air-Tite II cabinet. This insulation prevents condensation that may cause damage to the air handler itself or a consumer's home. In addition to eliminating sweating, the cabinet also eliminates the loose fibers from fiberglass insulation that may enter the airstream with other air handlers. Hyperion's exclusive double-wall construction provides families with peace of mind and cleaner, safer indoor air.
MINI SPLIT OMAHA AIR CONDITIONERS
With Mitsubishi Electric Cooling and Heating Solutions you'll discover comfort without compromise. Beyond simply regulating the temperature within your space, individual room controls allow you to improve the efficiency of your entire home.
Whether renovating your home or building a new one, in a hot or cold climate, you can end the struggle of cost vs. comfort: use only the exact amount of energy needed to maintain comfort. With a wide range of ENERGY STAR qualified, whisper-quiet indoor systems delivering allergen filtration that actually cleans the air, Mitsubishi Electric mini-split Omaha air conditioners are the right choice for your home comfort needs.
Home Automation
All the control of your home is at your fingertips, from anywhere, with a web-enabled computer, tablet or smartphone. With Nexia Home Intelligence, you can build your own home automation system. With products like the Trane ComfortLink control with the Schlage Home Keypad Deadbolt and Schlage Home Dimmer Module, you have the ability to:
Control temperature settings and manage energy use of your heating and cooling products in Omaha, NE.
Allow entry to your home through the Schlage Home Keypad even when you're not there
Assign up to 19 private four-digit codes for family members
Receive instant texts and email alerts when codes are used
Set recurring codes for housekeepers or frequent guests
Add, delete, or change user codes remotely
Confirm the status of your wireless lock from anywhere
Program lights to turn on/off at different times of the day
Schedule your lights to turn on when lock code is entered